What Is Automated Fashion Product Tagging?

7

min read
Reading Time:
6
minutes
Automated fashion product tagging is a process of analyzing and labeling a product image in an e-commerce catalog by detecting visual attributes, automatically. For instance, if a product catalog has an image of a violet dress, image recognition and Machine Learning (ML) technology can 'tag' it as 'Knee-length, V-neckline, 3/4th sleeve, violet sheath dress". All you need to do is 'approve' these automatically-generated tags with one single click.
Imagine a situation where your shoppers are looking for a white wedding dress, but what they get instead is a neon pink t-shirt. Or how about a shopper looking for a silk shirt for women, but seeing men's formal shirts in that category listing instead? For an online shopper, this can lead to a frustrating experience – and more often than not, this is the primary reason for site abandonment. For you as a retailer, this is, safe to say, your worst nightmare.
With the number of products being sold online today, the increasing number of online sellers, the sheer scale of heterogeneity in categories and the diverse nature of the visual features that co-exist with product descriptions and feature specifications, manual product tagging proves to be impractical and infeasible.
In order to remain competitive, retailers are forced to make quick decisions based on shoppers' needs and instant product discovery is key to maintain engaged customers. An effective and automated catalog management system is essential for site search (personalized search), as well as category navigation.
This Is Where Automated Fashion Product Tagging Comes In
Automated fashion product tagging, as the word suggests, is a tool that can "automatically" tag categories, subcategories, visual and non-visual attributes from any given image or media content.  It decreases the time taken to tag catalogs, improves the accuracy of both the tags and search engine results on sites. More importantly-  it can save up to 90% on operational costs. There, we said it!
The Drudgeries Of Catalog Management
The primary way of locating and identifying products is using a simple text search.  Inconsistent and unstructured tagging of product descriptions and facets lead to broken textual searches on the site and impedes product discoverability for both you as a retailer and the end shopper. A lot of useful search results also get excluded from this process. A key part of inventory management revolves around having a classified, consistent taxonomy.
Too Many Cooks Spoil The Broth?
Different sellers are bound to have different product descriptions and tags. Most product images are derived from UGC (user-generated content) that can be low in image quality. While the high-level categories are easier to tag, the subcategories require more work. One or two levels of category mapping are usually generated easily, for example: "Women > Clothing" or  "Clothing > Pants", however, adding more subcategories to further refine this is key for optimal product discovery.
The Pain Of Tagging Products, Manually
If you haven't invested in technology yet, chances are that you are spending significant overheads in manual labor and time to manage and streamline the various aspects of your catalog. Not only is manual tagging tedious and time-consuming, it is also prone to human errors.  
Vue.ai's Product Tagging – Your One-Stop For Automated Catalog Management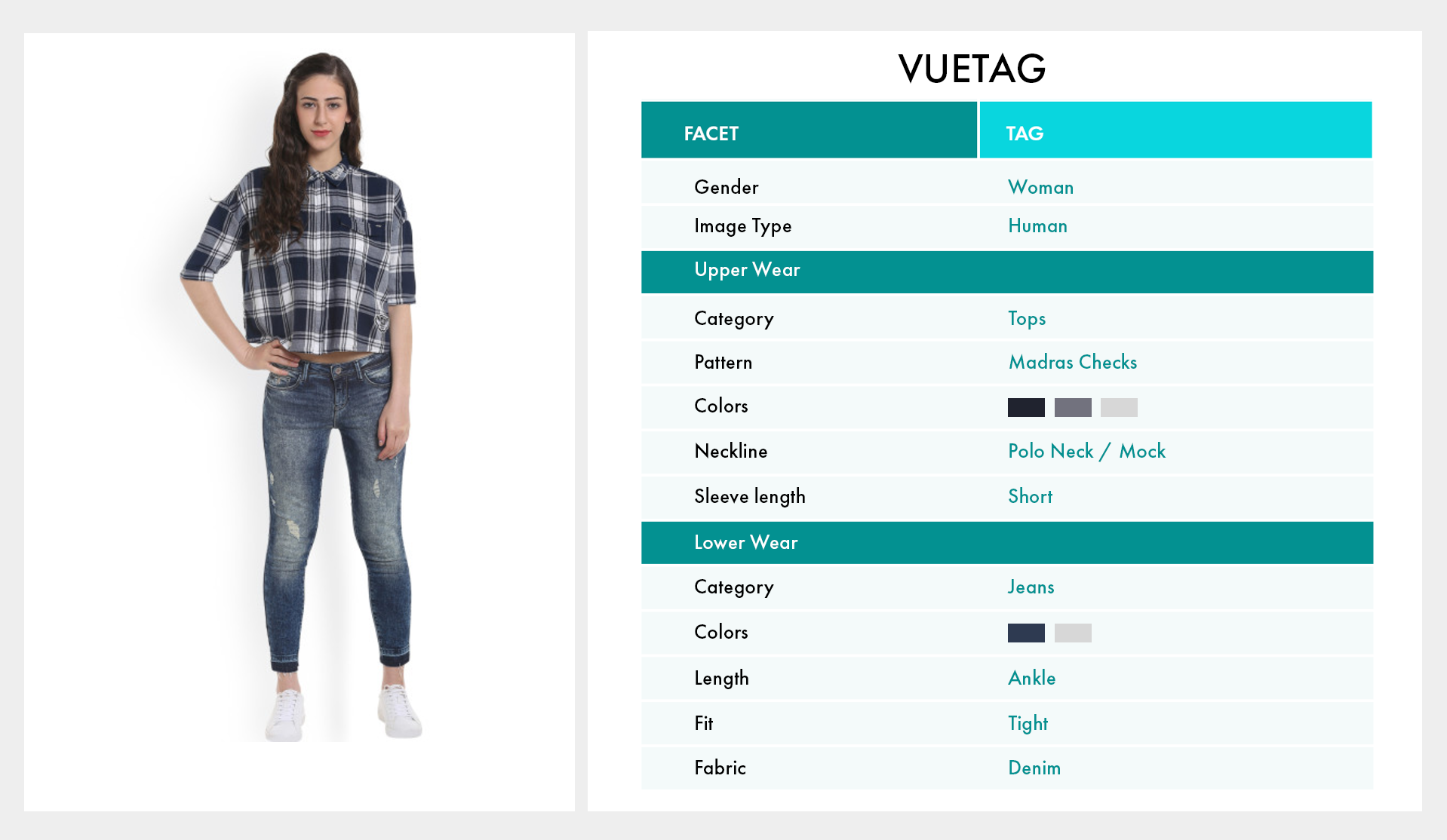 Vue.ai's Product Tagging uses image recognition to extract attributes like category, gender, color, pattern, dress length, sleeve length, neckline among others. Using the power of AI, our algorithms are trained using thousands of images to identify the visual attributes and is completely automated to a level that does not require much manual intervention, saving you significant time and resources.
Vue.ai's Product Tagging tool's Six-Step Process
Vue.ai's computer vision powered auto-tagging machines are trained continuously to learn the various attributes from training imagery that is unstructured, replicating what is usually found in marketplaces.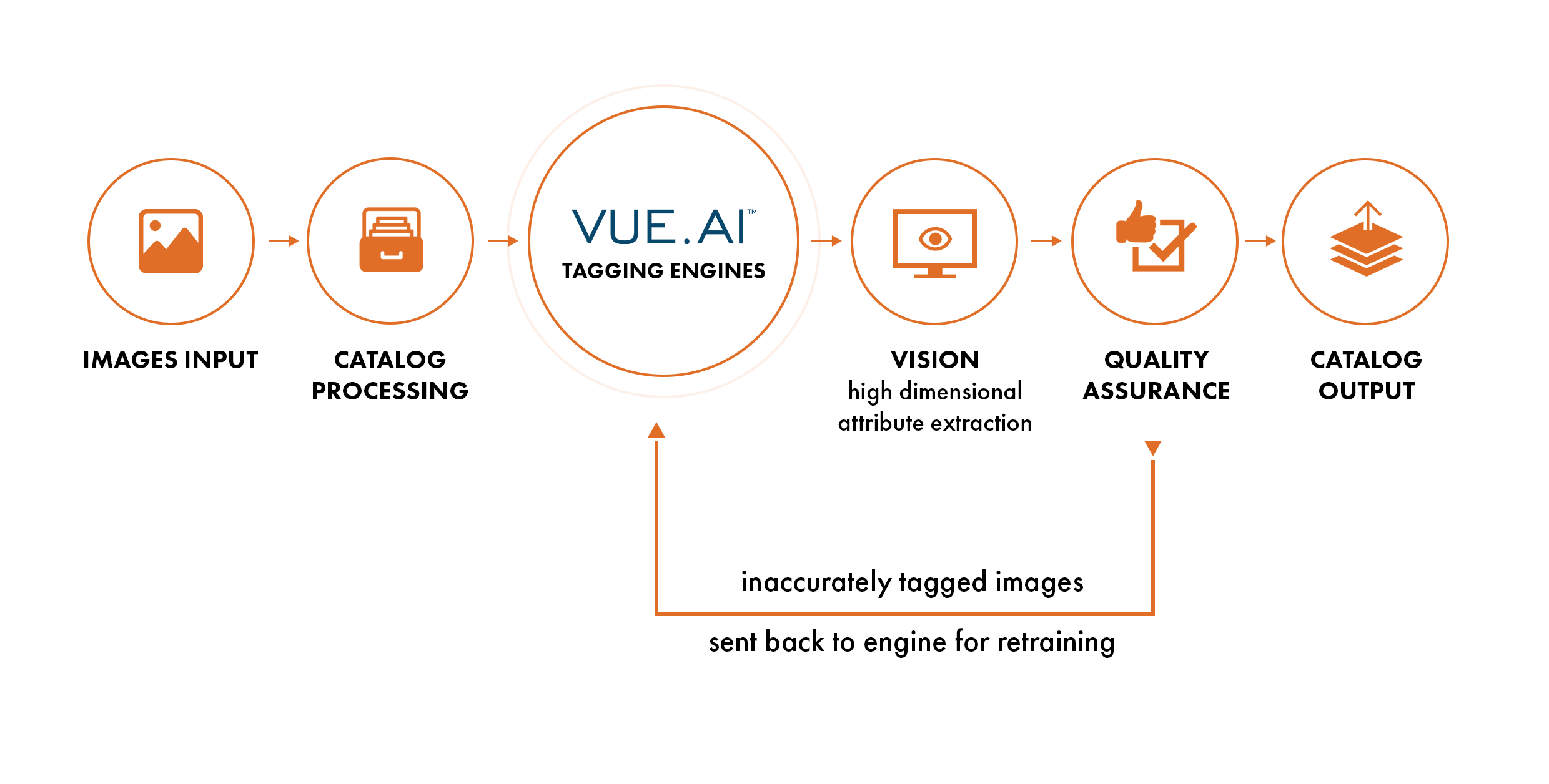 This is a six-step process:
The catalogs are sent to our engine in various formats

The catalog images that are received in various formats – as User Generated Content (UGC), social media feed, low-quality images, and more, are then processed through product tagging tool's engine, where regions of interest are drawn like in the image below. These identify attributes like category, gender, color, pattern, sleeve length, necklines, silhouette, and more.


Taking it one step further, in order to figure out certain non-visual attributes such as fabric or occasion/style, the NLP systems of Vue.ai's Product Tagging tool detect these facets based on textual information.

As shown in the image below, the product tagging engines are trained with all sorts of imagery and are designed to accurately extract visual attributes, that go beyond just the categories. The engines also have a level of flexibility wherein it has the capability of adding new tags as required for various types of catalogs 

Once the tags have been extracted, a round of QA is performed.  Images that have been inaccurately tagged are sent back into the system for retraining.

The tagged images are then delivered for the enrichment of the catalog, and for the optimization of product discovery.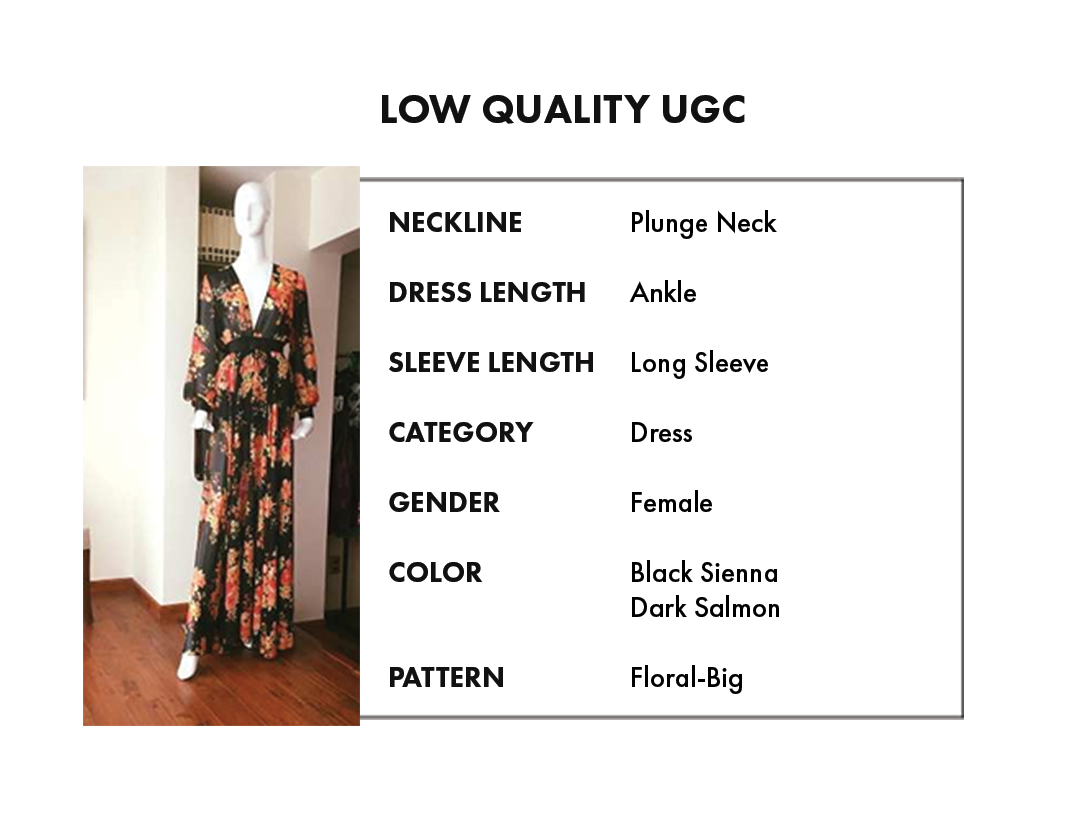 This continuous feedback loop retrains the images that have tags with lower accuracy and ensures that the system continuously learns.
Why Is Auto-Tagging Crucial For E-commerce?
Apart from the increase in operational efficiency and reduction in manual tagging processes, auto-tagging technology is the backbone for various AI-driven products for retail. Being able to identify objects in moving images, videos or any sort of visual content, along with detecting the visual attributes of products seen in such media, is key to truly understanding shopper behavior and preferences. Apart from the data-driven continuous learning systems, visually intelligent computer vision based processes that can extract multidimensional attributes with auto-tagging engines, from the product that a customer is engaging with helps create a holistic persona for each shopper.
Automated Fashion Product Tagging  for Personalization And Shoppable Media Content
Auto-tagging is key for on-site personalization. Using Computer Vision based technology, with every click on a product, the specific attribute-wise preferences become apparent and when combined with data-driven historical behavioral patterns, the personalization engine becomes much more powerful and accurate in interpreting intent.  Algorithms quickly learn with every event click and provide customized fashion choices for each user in real time.  Shown below, Vue.ai's "Top Picks for You" suggests products based on individual browsing history.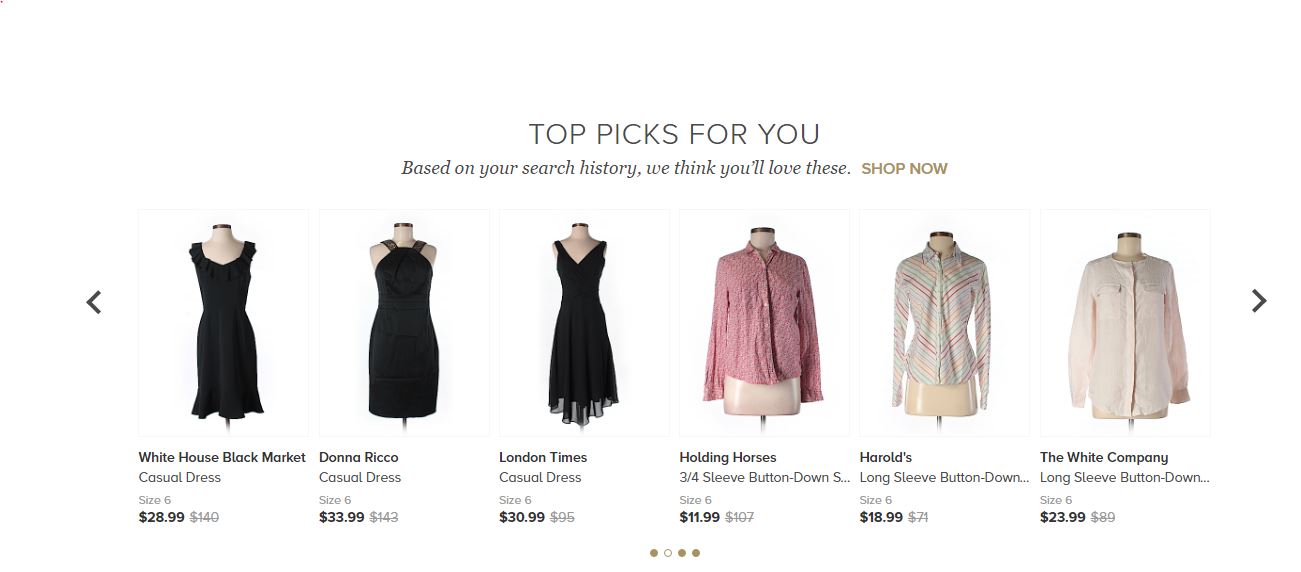 Apart from personalized recommendations, auto-tagging is core to providing other types of on-site recommendations like – Visually Similar, Complete the Look, Inspired by your Browsing History and several more.
And that's not all…
All forms of media content can also be tagged with automated product tagging. All your videos and ad banners can now be made instantly shoppable by displaying exact matches of products displayed on the screen, or similar looking ones if something goes out of stock.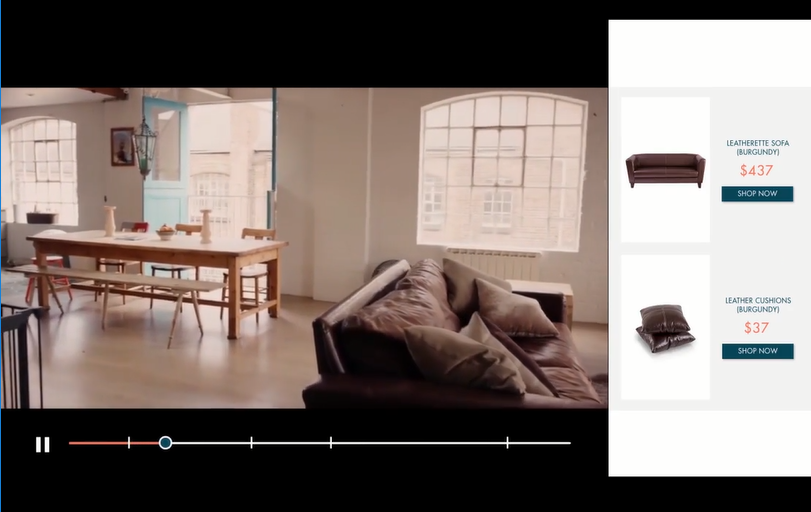 Conclusion
Tagging is one of those things that are invisible, and yet, indispensable – an essential sprocket that seems trivial, and is almost taken for granted, but one without which the entire gear system essentially falls apart. A catalog that has well-labeled tags helps all along the retail value chain – from decreasing costs by automating entire human-centric workflows, to aiding product discovery by helping index the products better, leading to more accurate searches on the site.  In addition, it also has secondary and tertiary effects like reducing bounces on search result pages, and in providing hyper-personalization to users based on their affinities towards detailed facets.
Read More About Automated Catalog Management Solution