How Artificial Intelligence (AI) Is Transforming Beauty & Cosmetics Retail

5

min read
Reading Time:
4
minutes
The continuing and growing usage of products by women, and increasingly by men across the world mean that universally, beauty brands is generally unaffected by the ups and downs of the economy. The overall sales are affected in the event of an economic downturn like the COVID-19 pandemic. However, the sales of cosmetics maintain a certain standard volume overall. Consumers across the globe are showing by their actions that they still find comfort in the simple pleasures of a "Monday morning skin-care routine" or a swipe of lip gloss before a Zoom meeting!
The COVID-19 crisis is likely to accelerate trends that were already shaping the market, such as the rise of the global middle class and the use of e-commerce, rather than mark entirely new ground. According to a Research and Markets report, the global cosmetic products market was valued at USD 532.43 billion in 2017 and is expected to reach a market value of USD 805.61 billion by 2023. The report also highlights this CAGR of 7.14% is owed to:
The growth of e-commerce
Increasing access to bottom of pyramid consumers by tech
An increased focus in grooming and personal appearance fueled by social media
Consumers Want "Convenient" Shopping Experiences
Post pandemic, people are wary of "touch and feel" shopping that earlier was the primary way to shop beauty. While digital payments as an everyday habit was introduced by Uber exactly a decade ago, people made digital their go-to payment method for every kind of purchase during the pandemic. In fact, a Capgemini report stated that 78% of consumers in India, a developing nation, prefer to increase the usage of digital payments! This only means that more consumers are going to be shopping online across segments— beauty being one of them!
Consumers in 2020 prefer contactless shopping that beauty & cosmetics industry are beginning to deliver on, with the help of technology powered by artificial intelligence (AI). Additionally, the use of augmented reality, community outreach via social media and highly customised experiences will be the drivers of revenue in the coming years.
For instance, in mid-July to August this year, a filter showcasing freckles on users' faces became quite the rage among Gen Z and millennial members on Instagram. This sparked intuitive beauty & cosmetics brands to partner with beauty influencers to create "fake freckles tutorials" to promote their eyebrow pencils! This is a real-time example of how the combined power of augmented reality, the power of community and social media—helped carve a path for the consumer to visit and shop from the websites of beauty brands.
The question is—how can beauty & cosmetics brands stand out from the competition to meet the needs of the easily bored 2020 shopper? The answer is 360-degree dynamic personalization!
Why Beauty Brands MUST Personalize The Customer's Experience?
It's been a decade since the personalization was introduced to the beauty & cosmetics industry. What has been a good-to-have in the past years became a must-have during the pandemic. Beauty shoppers are constantly online on e-commerce sites—according to a Condé Nast commissioned a study by research firm Tapestry—beauty consumers spend 80% of their time in the pre-search phase of their purchase journey and only 20% on the website to "add to cart" and make their purchase! The beauty shopper knows exactly what they want. And wants those exact matches (personalized search) displayed on the first page of their search results.
How does AI-powered retail personalization display the shopper's most preferred products on the first page? The answer— by marrying customer intelligence with content intelligence:
Building a dynamic view of the customer via customer intelligence:
Building shopper profiles through demographic, transactional, behavioral and social signals
Power personalized journeys for every shopper
Increase customer loyalty and lifetime value (CLTV)
Building a singular view of the customer via content Intelligence:
Capture and digitize product, content, and customer data
Tag and organize data into easily usable structured formats
Optimize costs through data-driven decisions

In fact, 360-degree dynamic personalization for one of Asia's leading marketplaces resulted in a 101% lift in engagement, 9.4% life in overall revenue per visit, 11.5% increase in overall conversion rate, 35% spike in customer retention!
Here are the 5 elements that rounded of this 360-degree personalization for the marketplace:
Home page displaying top picks for the shopper, personalized trending products, completely inspired by browsing
Product page displaying product recommendations and cross product recommendations
Category page with personalized sorting
Engagement emails with personalized promotions
Shopping cart Abandonment emails with personalized promotions, personalized recommendations and cross product recommendations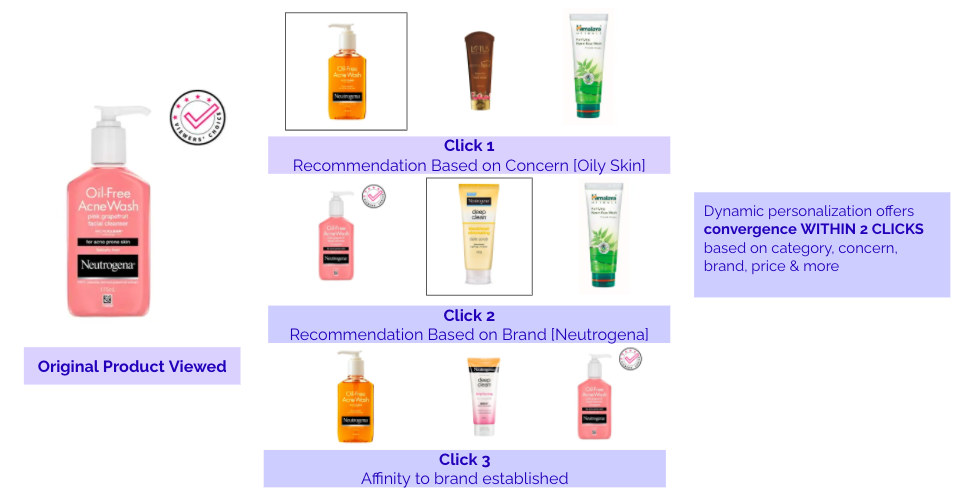 Spotlight: Vue.ai's AI Stack for Beauty and Cosmetic Retail
After an in-depth analysis of beauty retail and trends emerging in the wake of the COVID-19 pandemic, retail, technology and AI experts at Vue.ai have compiled 4 key elements that will generate incredible ROI for beauty and cosmetics retail. They are:
Product Tagging: Automatically extract and create comprehensive and accurate tags from images and text, for enhanced product discovery.
Personalized Marketing: Make your one-time shopper a repeat shopper with personalized retention marketing.
Complete The Look: Show products that are frequently bought together. And across categories like skincare, haircare, and more, to increase basket size.
Dynamic Personalization: Understand shopper intent within 2 clicks based on category, concern, brand, price & more, to power bespoke experiences.
Vue.ai's AI Stack for Beauty and Cosmetics Retail is designed keeping in mind that customer retention and loyalty strategies begin with personalization. The product suite is customized for the beauty retail segment, thus enabling beauty brands to save costs, while increasing revenues.
Read More Virtual dressing room
Read More Ecommerce challenges