All In The Eyes Of The Beholder: Using Visual Merchandising To Transform The In-Store Experience

9

min read
Reading Time:
7
minutes
As visual beings, anything we see tends to have an impact on our thoughts. This makes sense because sight is responsible for as much as 83% of the information our brains process.
The same is the case of apparel at a fashion retailer's store. Something as simple as how an outfit on a mannequin is presented will affect whether a shopper would want to try it out or not. So, fashion retailers need to pay close attention to how they set their stores and arrange their products to get shoppers' attention. And visual merchandising delves into just this. It is the science of using visual cues to get people to buy more.
The objective of this strategy is to use aesthetics to enhance product displays to such an extent that consumers are drawn to a store and don't walk out without buying anything.
If done right, visual merchandising can go a long way in boosting a fashion retailer's sales significantly and increasing brand loyalty. It works to engage and inspire customers, which by extension drives them to shop more thus increasing sales, margin, and returns on store space.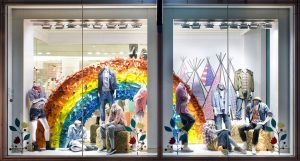 Menswear fashion brand Hackett London is a brilliant example of a brand excelling at visual merchandising. While catering to an array of clothing needs for men, the brand prides itself in its high-quality custom suits made with attention to every detail and stitch.
It once created a brilliant window display that was in line with these exact beliefs – it had statuettes meticulously tailoring one of its suits. This piqued the interest of shoppers who looked at the display and instantly wanted to explore the store. Visual elements that match brand messaging goes a long way with customers.
Things To Get Right For A Visual Merchandising Strategy To Work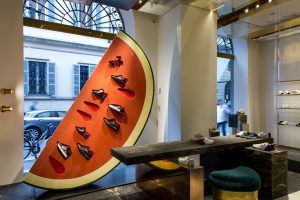 Stores cost money.
So, it is only fair for fashion retailers to think about how every inch of every store can make them more money. Visual merchandising involves precisely this.
Take the window display of shoe brand Premiata's Spring 2018 collection for instance. It consisted of a refreshing display (literally!) of Premiata's shoes in a watermelon slice setup to resonate with the feel of spring.
A fresh look for a fresh season, we must say! Let's talk a little more about what's working in their display and what every fashion retailer needs to look into while planning their visual merchandising strategy.
Colors
Research suggests that people make decisions about a product in under 90 seconds. And 62‐90% of this assessment is based on colors alone. Naturally, colors are important for getting potential customers' attention through visual merchandising. Premiata's watermelon display with its soothing colors pleases the eyes, making people want to look at it – an indicator that the right colors to go with your product alongside shapes and props work well. It's also a good idea to go with a subtle solid colored background like the brand has to make products noticeable.
Light
Lighting can be used to highlight parts of a store strategically. Premiata gets this right too by bringing in the needed contrast with focused lights on its shoes and slightly duller lighting for the rest of the store. Lights  also double up as signage, as IKEA shows us with arrows pointing where to go, except they're really just lights on the ceiling.
Hierarchy
A hierarchy for product displays is important because it provides visual contrast and peaks customer interest. Having a focal point and position to support products below is a good way to make a display intriguing. The structure of Premiata's watermelon display itself creates this kind of a hierarchy.
Signage
Doing signage with imagery and graphics can help in drawing more customers to a fashion retailer's store. The signs can be placed strategically in the store and used to provide customers with the information they need while browsing.
Is Visual Merchandising Just About Engaging Customers' Vision?
Sure, the name does imply just that. But, visual merchandising actually involves so much more because consumers' perceptions of a fashion brand are built on all senses (albeit without them realizing it). So, engaging all senses of shoppers and not just sight is vital to any visual merchandising strategy.
Abercrombie and Fitch has been known to design its stores using dim lighting, loud music, attractive staff, and its signature line fragrance. Why it does this is simple – to resonate with its target market of adolescents and drive them to make more purchases on the spot.
So, here's everything fashion retailers need to keep in mind while looking into the multi-sensory aspects of visual merchandising.
Sight
Shoppers can be stimulated visually with a number of attributes including but not limited to color, lighting, contrast, and symmetry. Using these, fashion retailers can redirect and influence where their customers look and for how long.
Sound
Although extremely subtle, the music played in a store can do a lot for a fashion brand too. Keeping the target audience in mind while picking out music is important. For example, a fashion brand looking to attract Gen Z shoppers would do well by playing weekly top hits or loud club music like A&F does to attract its target market of young shoppers.
Touch
A physical store has the upper hand on this aspect any day. Customers want to feel and try products, and a physical store allows them to do this with ease. Arranging products in an interesting way that makes customers want to pick them up is worth considering.
Smell
This isn't just for perfumes. Research has shown that smell is a crucial aspect influencing memory and emotion in consumers. With both these factors driving a shopper's decision to choose one brand over another, it's important for fashion retailers to work on making their stores smell nice. Lush's products create a strong aroma that, although sometimes overpowering, gives shoppers a sense of Lush's brand identity. So, leaving smell out of merchandising would mean losing out on leaving a stronger impact on shoppers.
Taste
Customers love to have something to munch on while shopping. While this does work out rather well for retailers in the consumables industry, giving tasty treats out to shoppers looking for apparel too can make them walk into your store more often – this is an especially good idea in the holiday season.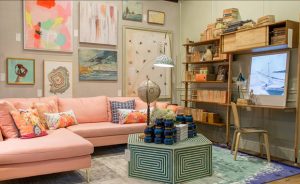 Anthropologie, as it happens, manages to engage all senses of its shoppers with its visual merchandising strategy too – the perfect lighting to fit the mood, dreamy music, and art pieces that are handcrafted to give shoppers the homely feel they crave. The brand even makes sure that its products are arranged in such a way that shoppers want to pick them up to get a feel of them. While its stores do stock scented candles, sales staff have even been found to burn incense before the doors open in some of its stores.
Grouping Products Works Wonders
A customer looking at a shirt at a fashion brand's store would absolutely love the idea of having a complete ensemble that goes with the shirt readily available. The ready ensemble keeps the shopper from having to spend more time looking for items to match.
So, grouping products that go well together is a great way to get visual merchandising right as a fashion brand. It not only gets shoppers' attention but also gives them ideas about how products can be matched.
Grouping can also be extended to products of the same price, size, and color.
Retailers often take to the rule of three while grouping products for displays in physical stores. According to the rule, sets of three work well while grouping products. The logic behind this is that 3 objects usually lead to asymmetry, which triggers the brain and keeps shoppers' eyes moving to find the next thing to buy.
However, with one or two items, it so happens that shoppers find the symmetry their brains are looking for and stop looking around. This rule also works with any odd number or even just something odd for that matter – like an item that's out of place in a display.
How Not To Overdo Visual Merchandising
One of the biggest problems with visual merchandising is that it's very easy to do more than necessary. This is especially the case with window displays.
It is tempting to use every product on offer and put it on display, which then leads to an unfocused display with way too many elements.
Shoppers would certainly be less inclined to look at something like that rather than something that makes the logic of product arrangement evident. They would want to understand why certain products have been grouped together immediately, and this is possible only with an uncluttered display.
Keeping the number of elements limited and being able to justify the reason for every item present in a display is the way to go for fashion retailers looking to avoid clutter. Doing this also gives them a clear idea of what's working and what's not, allowing them to provide displays that are more likely to strike a chord with shoppers.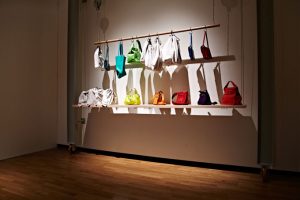 French luxury goods manufacturer Hermès, in fact, perfects its window displays.
It once had a few of its handbags displayed in a huge frame of – surprise, surprise – a handbag! The brand simply played around with the image of one of its products to get more shoppers to pay attention to its display, which would make them interested in buying its handbags.
Digital And Interactive Installations In Visual Merchandising
Because every customer wants to experience products, not just look at them, retail stores are becoming more immersive with every passing day. So, why not introduce interactive elements that make visual displays more than just "visual" displays?
Retailers need to keep up with new digital trends – like media displays and interactive floor models – and incorporate them into their visual merchandising strategy to stay relevant. This is crucial to stay connected with their constantly-in-touch audience.
Anthropologie knows its consumers well. This shows in how immersive the brand makes its shopping experience with its well-designed, uniquely-decorated displays.
Digital installations like digital signage also work wonders with more brands increasingly engaging with millennial shoppers. When used right, it can create personalized in-store experiences for today's shoppers, which is precisely what they seek. Its vibrant displays have often been found to drive shoppers to stores and influence purchase decisions.
Having digital kiosks in stores also helps customers navigate themselves through stores with useful information about the store, products on sale, and more.
Getting visual merchandising right is crucial to increase customer engagement and hence profitability for you as a fashion retailer. Engaging all 5 senses with just enough products in displays while using stimulating elements and technology will keep shoppers interested in your brand and coming back to you.