AI powered Site Search : 6 Easy Ways Retailers Can Improve Their Site Search Experience

7

min read
Reading Time:
6
minutes
AI powered site search – 68% of shoppers would not return to a site that provided a poor search experience.
We live in a time where shoppers can search for anything online and have results delivered within milliseconds. With the current eCommerce climate being this efficient, shoppers are unwilling to settle for anything else. They are likely to exit a website if the search results are not relevant to what they want.
With an endless catalog and a vast array of products, retailers often find it difficult to provide exactly what the shopper is looking for. This leads to increased bounce rates and abandoned journeys. A shopper may search for 'tangerine dress', and get no relevant results. As a result, the shopper might leave the site.
The retailer just lost a customer – even though they have a range of relevant products that may have just been tagged "orange".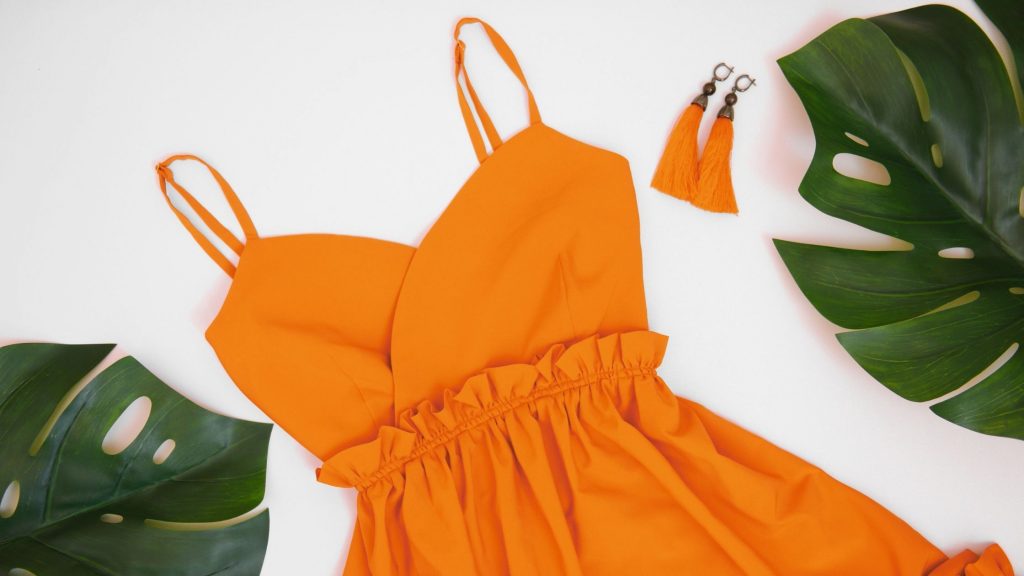 In another case, a shopper searching for 'healthy cereal' is directed to over 15 pages of products – each of which showcases breakfast cereals claiming different health benefits. They spend an endless amount of time scrolling through the site and are overwhelmed by the options. They still cannot find the product best suited to their requirements. Out of frustration, they then decide to try their luck elsewhere and exit the site. This is a typical case of the paradox of choice.
Finding the perfect product in an online store for shoppers often ends up being like finding a needle in a haystack. They are greeted with too many options and the process becomes unnecessarily complex – or, at the other end of the spectrum, they get no results. These lead to a poor experience and the shopper abandoning the site.
As a retailer, quick product discovery is imperative. Unless a customer can find a product they want to buy, no amount of traffic or conversion optimization will be able to drive revenue. This is where an optimized AI powered site search solution can help.
Studies show that on websites without an optimized search functionality, shoppers spent a large amount of time looking for a product but ultimately left because they were unable to find what they were looking for.
But this was not the case when retailers invested in optimizing their search pages. Even though customers spent less time on-site, they inevitably found their desired product. As a result, they stuck around to make a purchase.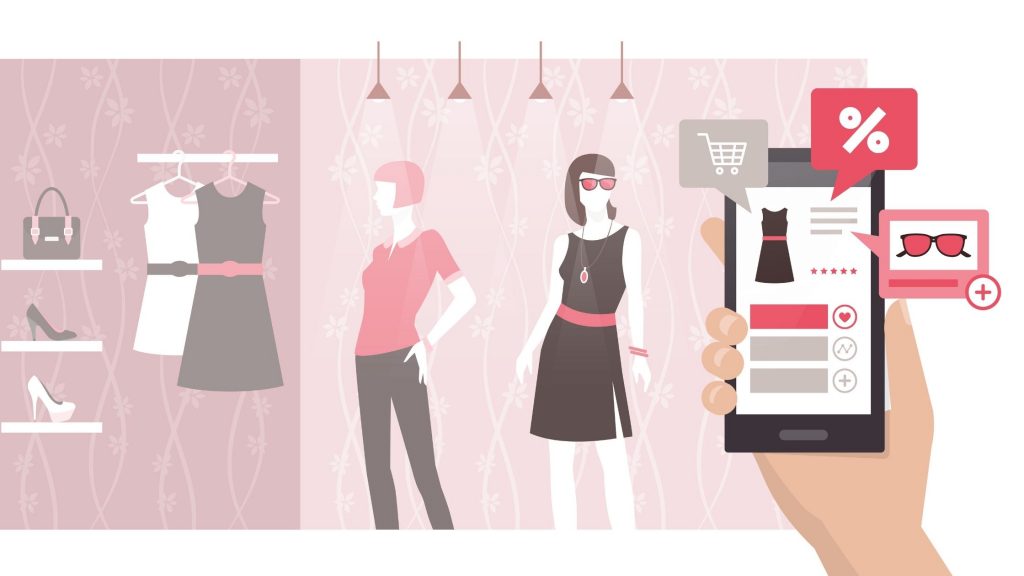 But what is an optimized search function? How can retailers ensure that their AI powered site search engine gives shoppers exactly what they are looking for?
By making sure that the search results have the two basic pillars of a good search experience –
1. Accuracy
Do the search results match the keywords typed in?
Shoppers searching for something usually are very clear about what they are looking for. Wrong or mismatched results are sure to drive them away. Search results must be accurate and display the products closest to the keywords the shopper has searched for.
28% of shoppers are frustrated when they receive irrelevant product results while searching. Nearly 24% cannot find what they are looking for.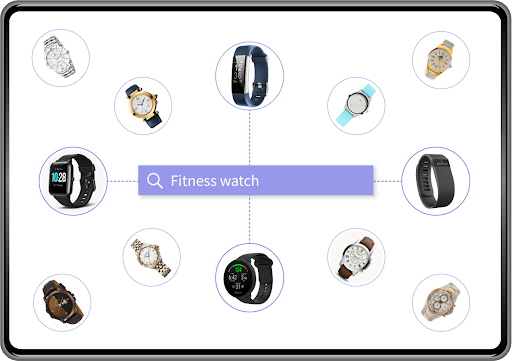 2. Relevancy
Do the search results display products best suited to every individual customer?
In today's incredibly competitive retail world, personalizing across shopper journeys is no longer an option – but a necessity. This stands for site search too. Shoppers browse through a site expecting to see results that are relevant to their needs and preferences. If this is not the case, they simply move on to the next best site that customizes this experience for them.
According to a Forrester study, 77% of shoppers have chosen, recommended, or paid more for a brand that provides personalized experiences.
Here's how AI can help with site search
Vue.ai's solutions combine product intelligence and customer intelligence to deliver a personalized search experience. The AI uses extraction and prediction to create rich, accurate product data. At the same time, the system also creates shopper profiles based on each shopper's preferences, behavior, and purchase history. With these shopper profiles and the intelligent product data, each shopper finds just what they are looking for from their search queries. With Vue.ai's automation based solution, retailers can –
1. Improve accuracy of results
Retailers can leverage AI to understand both visual and textual data, extract and build deep, accurate tags and product information.
When a customer searches for a 'polka dotted' top' on an AI driven personalized engine, they will no longer be greeted with endless results of polka dotted socks, striped tops, and floral ponchos. The accuracy of search will improve significantly – creating a better search experience and increasing conversions.
2. Improve catalog coverage
Vue.ai creates rich product data ensuring that all the products are tagged with all their attributes and synonyms. For example, the shopper (from our first example) who searched for a tangerine dress would see products now since it has been tagged with orange as well its synonym tangerine.
3. Personalized sorting of search results
The product listings on the search results page can be sorted and personalized to each shopper's preferences. This allows them to find products that shoppers like the best without even having to scroll. Retailers across the globe have been able to reduce bounce rates and increase conversions with personalized sorting of search results.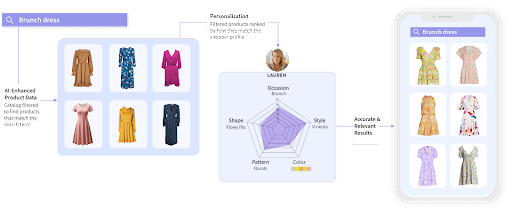 4. Reduce null results page
Quality product data can help retailers recommend similar results when the product searched is not available or sold out, helping reduce drop-offs from zero search results. This way, when the customer searches for a 'teal couch' that is not available, the site can still return results of other couches in similar shades of blue.
5. Manage common typing errors with intelligent guesses
Often, search results pages churn out an "Error 404 Page not found" when poorly typed search words are entered. Ideally, the search engine should be able to identify every poorly worded search and return a good set of results. With standardized product tags, it is possible to ensure that any keyword search returns some related products or product suggestions.
Instead of searching for a 'sheer' dress the customer may have entered in a 'shear' dress which will inevitably deliver no results, driving the shopper out of the site. Ideally, the search engine should be able to return a good set of results even in these cases by predicting what the term could have been. AI can help power automatic keyword substitution. This helps retailers display relevant search results for a search that does not have a perfect match.
6. Auto-fill search queries with personalized suggestions
By mapping the shopper's profile to the search results, Vue.ai is able to auto-fill shopper's searches with personalized suggestions, reducing the time taken to look up a search query. This coupled with personalized search results makes the whole search experience seamless and effortless.

Let's say there are two shoppers – Lauren and Sophie, with different category interests. When they both type in 'Red' in the search bar, based on their interests, they are shown completely different auto-fill suggestions – 'Red dresses' for Lauren and 'Red crop tops' for Sophie.
With an AI powered site search solution, retailers can help improve their site search and product discovery process, revolutionizing customer shopping experiences like never before.
---
---
---